Exclusive Pre-Access to Black Friday Deals 
Three distinguished footwear brands, Paul Evans, Jack Erwin and Ace Marks, are coming together this Black Friday to offer a collection of their top styles, hand-picked for you. With a shared commitment to craftsmanship, style, and sophistication, these iconic brands are the epitome of footwear excellence. Enjoy exclusive access to Black Friday discounts on styles that rarely go on sale.
Jack Erwin x Ace Marks
Immerse yourself in Jack Erwin's luxury footwear, a blend of enduring elegance and unmatched craftsmanship.
Paul Evans x Acemarks
Step into a realm of refined elegance as we showcase the timeless italian craftsmanship
of Paul Evans exquisite footwear in an exclusive selection—where sophistication meets seamless style.

This special collection is not simply a convergence of styles; it's a celebration of the artistry and dedication.
Unified Elegance:
Embracing the Art of Shoemaking
Elevate your style with the finest footwear, where every step is a testament to timeless sophistication and seamless design. Uncover the artistry of three iconic brands united for an unparalleled Black Friday experience.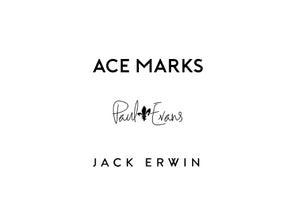 ★★★★★

Sneakers are awesome! Instantly most comfortable shoes ever!

Kim Parrot

Verified Buyer
★★★★★

Just arrived and they are lit! Already getting my second pair.

Bogdan Sorlea

Verified Buyer
★★★★★

I recevied my shoes yesterday and have worn them both days. I can say I have a new favorite pair of shoes. Can't wait to order more.

Mark A Lazano

Verified Buyer